Well… after MegaUpload was shut down, it's been a hell of a nightmare to find a working filesharing service. Everyone is sooo afraid of the MPAA and RIAA, that they're just closing the door. So… it's time to get back to our roots.
YEAH!. I'm talking about P2P networks. I used to be a huge fan of BitTorrent, in the good old days where MegaUpload wasn't even technically possible. It is in fact thanks to BitTorrent protocol that The Pirate Bay is still operative. Magnet links are, as far as i know, legal. Nobody can punish you for posting magnet links. In the end, it's a GUID, right?.
So… i had to get back to BitTorrent. That was the easiest way to stop searching files that are just not there. The big question is… what is the best OSX Client for BitTorrent?.
Well, i'd like to recommend this one: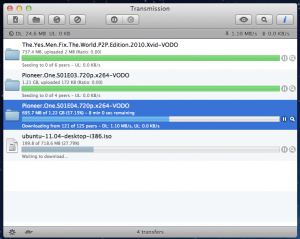 It's called Transmission. Just click on the link, and get it for free. There are few tools that help you automate the download of torrents. I'll post some of them in the next couple of days. Stay in sync!