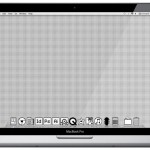 So… we're stuck in 2012. While technology moves forward in a fast pace, the human aspect of our society gets worse as well. If you think about it … it's wicked. We have all of this cool tech, yet, people die of hunger all over the world.
Not too long ago… everyone thought that tech would change the world. Say.. back in 1984.
Guess what!. If you miss that epoch… and don't feel ashamed about it, you can skin your OSX to make it look as the ooooold Mac System. It's pretty cool, and you can get it for free right here.